Some friends and I had a bit of a rant last night on Facebook about the intense gender imbalance and lack of female acts represented in the 'Hottest 100 of All Time' list. Not one solo female came up in the whole 100 list, and only six females featured, that I could find, in bands (Massive Attack, The White Stripes
,
Pixies, Smashing Pumpkins, Pulp, The Dandy Warhols),
in the whole thing, amongst hundreds of males. I wasn't so much upset or annoyed, as I was puzzled as to why some of the biggest names in (alt.) music didn't show up?
No Nina Simone, no PJ Harvey, no Patti Smith, no Joni Mitchell, no Fiona Apple, no Tori Amos, no kd Lang, no Tracy Chapman, no Bjork, no Kate Bush, no Aretha Franklin, no Sinead O'Connor, no Peaches, no Annie Lennox, no Ani Difranco, no Blondie, no Divinyls, no Breeders, no Portishead, no Amy Winehouse, no Madonna, etc, etc, not even a meagre Missy Higgins in there.
Although it was disappointing, it wasn't entirely unexpected. Whose fault is it that not one of these artists came up? Do women not sing, play or write good songs? Of course they do. It's not hard to feel like the music industry is patriarchal and generally excluding of females, do we not have the encouragement or support to create music in the same way as our male counterparts? Is this our fault? The lack of women on the list is just a reflection of the people who voted in it and perhaps is just a sign of our times.
C said "I knew I was going to find the 'Hottest 100 of all time' lame and a cop out but I didn't realise I was going to be offended by it!" and my friend Chris said "Is it the list that's stupid or the people who voted?". Some forums I saw suggested that there be a women's hottest 100 of all time, but it feels like that just goes further towards highlighting and creating separation and tokenism.
I felt like the list was basically full of the highlights/worst of the 90's, one hit wonders and the 'breakthrough tracks' by artists. Although I feel a little ashamed by the list, when it comes down to it, I didn't vote, and 'THE LIST' is totally meaningless and irrelevant. The fact that we spent so long bantering backwards and forwards about it was basically the point of the list; to incite argument and discussion and general dissatisfaction (this should have been in it, this shouldn't have been in it, this should have been higher up, this should have been lower, that was a cover, too few Australians, too many Australians, lack of folk/gospel/punk/etc), get Triple J a bit of talk and attention, and none of us actually voted, which was kind of ironic. Nobody is ever happy with the outcome of those lists, Rollingstone publish them repeatedly, though theirs at least seem to be somewhat more well rounded. I'm pleased others are becoming aware of the 'cock forest' that is The Hottest 100 Of All Time, and quite a few blogs and articles have sprouted up about it.
Apparently Hack will be talking about the gender imbalance in the list today at 5.30, but I'm skeptical about it's outcome. I hate to think that there will be underpinning elements of sexism and misogyny, as I felt there were in our Facebook discussion, and I couldn't help but read into Nick's; "Generally, the people that will vote, will not vote for such alt. music, which is what these girls are known for
. Also, t
o be honest, a lot of these people lack the continuity of celebrity, or in cases like Missy Higgins, the string of hits over a prolonged period of time. I don't want to beat around the bush here too much, some of them just don't write the kind of music that lasts through the ages
".
Good to see somebody else was concerned about those excluded by the list:
Today I have to write/post some letters and postcards and maybe go to the doctor's (still veeeery sick, drowning in my own body fluids, I think I've eaten at least five bulbs of garlic since I got sick). And as it turned out, attempting to install Linux on C's computer was a very BAD idea, he's having a friend come around and try to fix the whole mess this afternoon.
Unrelated to anything, here are some pretty pictures of my lounge room/desk: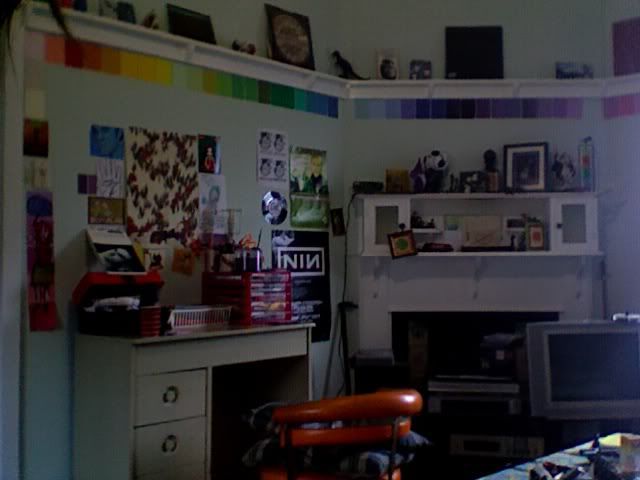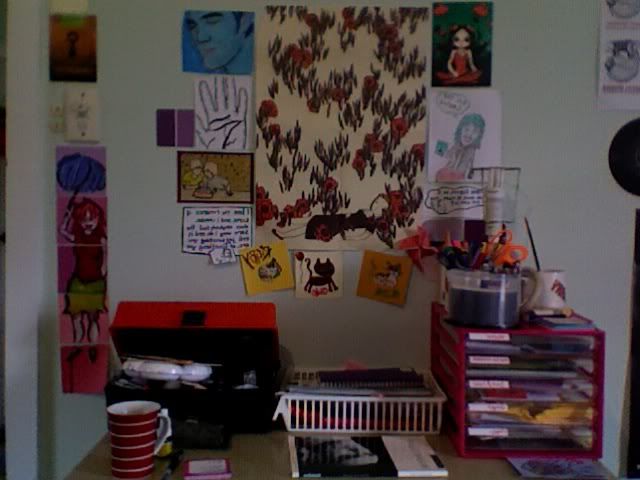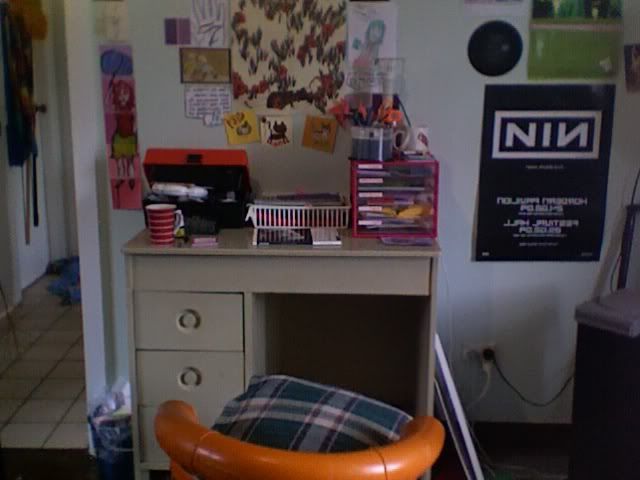 Also, here are some old pictures I turned into polaroids via
Poladroid
: